---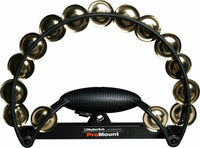 Sale
Professional Tambourine for Mounted or Hand Use
When it's time to get serious about your tambourine, professional percussionists rely on the Rhythm Tech Pro RTPRO11. These rugged tambourines boast an over-molded GLS playing edge that is ready to stand up to your most aggressive stick attack while remaining comfortable for hand use. The RTPRO11's brass jingles are strategically placed for maximum efficiency while reducing wrist fatigue. And each RTPRO11 comes with Rhythm Tech's Pro-mount to attach effortlessly to your existing percussion setup.
Top-quality tambourine
The look and the feel of a Rhythm Tech hand-percussion tambourine is familiar to every musician. Its identifiable shape is easy to handle. Their cushioned grip absorbs any excess shock from your performance. And the jingles add that sound to your rhythms that only a high-quality tambourine can. Sweetwater offers multiple options when it comes to tambourines, but nothing else feels or sounds like a Rhythm Tech.